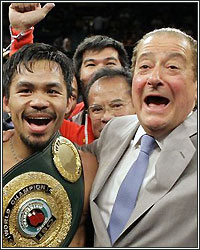 When Bob Arum teases a "major," "big deal" fight announcement regarding Terence Crawford on a Sunday and then, two days later, an anonymous "source" suddenly leaks news of Terence Crawford-Manny Pacquiao talks to the media, why aren't more BS detectors blaring?
I can overlook the fans perpetual willingness to believe hype and tantalizing buzz. But, what about the media?
Not long after that source whispered Crawford-Pacquiao talk into The Athletic's ear, the same source (I'm assuming it was the same source, anyway) flat-out told ESPN that, while "discussions have taken place for a very long time…the fight is not yet close to being finalized" and that "if it does take place, Abu Dhabi is the targeted location, and June 5 is the targeted date."
I mean, for fuck's sake, the story that got picked up by just about every boxing website, was no story at all. Crawford's people and Pacquiao's people have had some talks. Nothing is finalized. Abu Dhabi is where it needs to happen if these particular talks result in a deal. June 5 is the targeted date– if the deal gets made. And, in similar news, if pigs were winged dinosaurs and lost their snouts, they'd be pterodactyls.
Sean Gibbons, long-time Pacquiao advisor and president of Pacquiao's promotional company, MP Promotions, would respond to the raging wildfire of "Crawford-Pacquiao is gonna happen" misinformation a day after the broken story broke. 
"[This is] Bob Arum and [Top Rank-to-Pacquiao liaison] Mike Koncz nonsense," Gibbons told Inquirer.net. "I do not believe that is happening."
And it's NOT happening– at least not in the way it's being presented by the perpetually dim-witted boxing media and received by a fan base that doesn't always pay the most attention to what they read and where their info comes from.
The real story was that there was no story. It was just that things were being talked about and that there's, maybe, possibly, a place and date for the fight IF they do get things put together. That's all the original stories said. Everything else was the secondary media playing telephone, filling in the blanks for fans who desperately want something good to believe in and talk about. 
And, maybe, there's no story at all. The timing of all this suggests that Arum is interested in making people THINK something is happening. Arum is known for sleight of hand, especially with a fighter who is up for contract renewal this year and a major network that may or may not be getting a bit uneasy at the lack of BIG revenue fights being delivered to them. This wouldn't be the first, second or even eighth time Arum floated out a rumor about mysterious Middle East money men, stepping out of the shadows, wanting to bankroll a major fight for one of his guys, who just happens to be upset by an inability to get the big fight he wants. Hell, this wouldn't even be the first time Terence Crawford heard  about mysterious Middle East money men, stepping out of the shadows, wanting to bankroll a major fight for him.
Crawford-Pacquiao is a fight that has been perpetually out of reach, mostly because Pacquiao has never wanted it. And Pacquiao's recently reported $40 million payday demand for signing on to face Crawford seems to be proof positive that his reluctance has not exactly wavered. Manny is smart like that. Crawford would beat the adobo and lechon out of him and retire him in a way he most definitely did not want to be retired. It's just a bad matchup for the Filipino icon. He knew that in 2016 and he knows that in 2021. $40 million and the promise of one final soft touch farewell bout might get him to sign on the dotted line, but it's more likely that Manny was just pricing himself out of a Crawford bout. 
(GASP. I know…what a shocker! Manny Pacquiao is a prizefighter like all the rest, measuring risk vs. reward.)
But with Pacquiao issuing a money demand (however disingenuous it may be) and Crawford griping about the lack of blockbuster fights coming his way under the Top Rank banner, this sure seems like fertile soil for Bob Arum to plant one of his patented Shittus Bullificus stink weed bushes. 
And the media is gonna buy it all, every time, because they are 1) Dumb and 2) Hungry to post shit that brings them traffic. 
Anyway, this could always be the one time Arum is actually telling the truth. Maybe Crawford-Pacquiao does get made. The smart money, though, is that it doesn't and that, by May 1, we hear news about both fighters signing to fight someone else. Then, maybe, we'll revisit this Terence-Manny stuff the next time Arum's looking to divert attention and set up a bait and switch.
Got something for Magno? Send it here: paulmagno@theboxingtribune.com