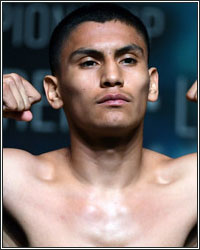 Some boxing fans are heavyweight-focused, some are aficionados of the smaller guys. Me, I'm a welterweight guy. Maybe it's because my first boxing heroes as a kid in the late 70's and 80's were guys like Sugar Ray Leonard, Thomas Hearns, and Roberto Duran. 
Having a couple of electrifying heavyweights helps bring in the casuals and a vibrant small man scene keeps the purists/snobs happy. But the lifeblood of boxing can be found from 135 lbs. to 160 lbs., with the very heart of it all beating at 147. That's why I like to pull back every so often and check on the health of boxing's thumping ticker. 
And the welterweight division is all the more compelling when there's some real, young talent rising through the ranks and on the threshold of challenging the big guys. We have that right now in the form of Vergil Ortiz Jr. and Jaron "Boots" Ennis, two early 20's fighters who are making waves and generating some real buzz. 
My mind was decided awhile ago, but Saturday night cinched it– Vergil Ortiz Jr. is for real. Now, I'm not going full-on mark and declaring him the best thing since condoms with the reservoir tip. I'm not even saying that he's ready for the elite in the division yet. But the kid is legitimately world class at the style he employs and is a deep-water presence, even right now, just a couple days shy of his 23rd birthday. His body of work– and the way he's just jack-hammered his way through some pretty legit guys with varied styles and mindsets– tells us this. 
Maurice Hooker, on Saturday, came into his bout with Ortiz prepared and sharp. He executed well and fought well enough to beat a lot of top welters. It just wasn't enough. Ortiz is that good, that sharp, and absolutely brimming with confidence. 
But having said that…fighters like Ortiz do tend to exist as optical illusions to a degree as they rise up the ranks. Their offense looks unstoppable because they steamroll the second and third tier guys with a combination of youthful energy and force of will. Their chins look rock-solid because they have everyone backing up and tentative. While it looks like they're eating monster shots like cotton candy and laughing about it, the reality is that their opponents are throwing mostly arm punches, throwing from a "backing up" position and just not getting much leverage on anything because of how hard they're being pushed backwards. 
The real test of Ortiz will be when he fights someone who can (and will) stand in the pocket and succeed in backing him up or when he fights someone who can keep his wits about him and employ effective lateral movement. We know Ortiz, the tiger, can pounce on his prey and devour anyone caught up in his claws. We don't yet know how well he can fight off another tiger or catch prey that does not so easily lend itself to being prey. 
The question is– who will be able to stand long enough to give him this kind of resistance? We know, right now, that Errol Spence and Terence Crawford can. There's Shawn Porter. I think Manny Pacquiao could do well, even at 42. Maybe Danny Garcia is savvy enough to offset some of what make Ortiz ORTIZ.  But I honestly don't see anyone else among the welterweight establishment doing much against Ortiz. 
Whatever the case, the kid is just turning 23 and has time on his side. There are plenty of interesting developmental fights to be had in the second tier and low first tier of the division. He's an honest and entertaining battler and the ride to the top is going to be a fun one. 
The 23-year-old Jaron Ennis, meanwhile, is also a "for real" talent. 
However, as we've seen way too many times in the past, having "for real" talent does not always translate into being "for real." Ennis needs bigger and better fights, grander challenges, to show the world that he can be more than just great "in theory." This coming April 10, he'll get his first opportunity to do that when he takes on former junior welterweight champ Sergey Lipinets. 
Russia's Lipinets is firmly second tier fodder, but that's not a knock in a division as deep as welterweight. Below the two or three elites, there's a bevy of talent and tough opposition. Lipinets can hold his own with anyone and, more importantly in this upcoming fight, give Ennis some distinct looks in terms of style and strategy.
I'm going out on a limb here and saying that Ennis won't look outstanding in beating Lipinets– certainly not as outstanding as Ortiz looked in beating Maurice Hooker. And that's okay. "Boots" will learn more from fighting Lipinets than Ortiz has learned from beating the guys he's beat. 
That's where comparing Ennis to Ortiz at this level is always going to be misleading. Ortiz is going to bulldoze is way to the top and that will draw attention and praise because walking through someone and beating the shit out of them is of universal appeal and easy to comprehend. Ennis is certainly capable of "beating the shit" out of opposition, but there's going to be some nuance and grace to his game, along with some rough patches where he fine-tunes his timing and rhythm. It won't be as easy to the untrained (or semi-trained) eye to see Ennis becoming the fighter he can be, but he has just as much high-end potential as Ortiz. 
There are some question marks hanging over Ennis' head. He's yet to fight someone who can impose any degree of physicality on him, so there will be questions about his toughness until he goes through a tough, physical battle. There will also be the question of how well he can do against a savvy mover and/or ring technician. 
Like Ortiz, Ennis is young enough to comfortably play the long game. There's no need to rush him along. There's a world of developmental fights to be had that provide learning experiences for him and entertainment value for fans.
The division (and the sport) is blessed with two true talents in Vergil Ortiz Jr. and Jaron Ennis, who are fighting their way to the top and appear to be more substance than hype. 
In 3-4 years, Ortiz-Ennis could very well be the Spence-Crawford of its day. Hopefully, by then, boxing gets its act together and has a way to deliver this fight to the fans without the obstacles, blocks, misdirection, and general nonsense plaguing the present tense boxing scene.
Got something for Magno? Send it here: paulmagno@theboxingtribune.com