The new Formula 1 season is upon us. After the stresses of 2020, the zip of tyres and the roar of engines will be music to the ears of F1 fans, who will also be looking ahead to potential winners for the 2021 season.
To get us in the party spirit, what better way than to look back on some of the most memorable F1 celebrations? Sometimes the emotions just get too much for drivers, and their reactions in championship-winning moments encapsulate just what the sport is all about.
Lewis Hamilton – crowdsurfing
Crowdsurfing is something normally reserved for rock stars when they leap into the crowd during moments of high excitement – but then maybe Lewis Hamilton is F1's closest thing to a rock star.
The Brit is famous for his high-profile relationship with Pussycat Doll Nicole Sherzinger and even Peter Bonnington, his engineer at Mercedes, remarked that it 'felt like a rockstar walked in' when they first met.
Only right, then, that Hamilton should celebrate in true rock 'n' roll fashion when he won the 2016 British GP.
The star jumped on top of celebrating fans at Silverstone as the festivities turned raucous, and we'll probably see many more moments like these in the future from him.
Daniel Ricciardo – drinking champagne from a shoe
When we think of celebrations, champagne is never too far from our minds. Bubbly is the ultimate party drink, the symbol of lottery jackpot wins and sports victories, but how many times have you seen it drunk from a shoe?
Ricciardo carries out the unusual celebration – known as a 'shoey' — whenever he finishes on the podium. He gulps it from his own racing boot, which might not hold the most pleasant taste after a tense finish. What's more, it tends to spill all over his face when he does it, although he probably doesn't care in the excitement of the moment.
Ricciardo is fired up for the upcoming season – so don't be surprised if we see 'shoey' again soon.
Mark Webber – the jump
People may say that jumping in the air is an ordinary way to celebrate, but then they probably haven't seen the famous 'Webber jump'.
The Australian driver pulled out the celebration after each career win and it was always a sight to behold.
Already tall for an Formula 1 driver, Webber rose to an impressive height when he did a victory leap and the way he pulled his legs up, too, made it even more entertaining to watch.
The jump became famous during Webber's time at Red Bull. The drink's slogan is 'Red Bull gives you wings', which maybe explains why the driver was able to soar into the air so easily.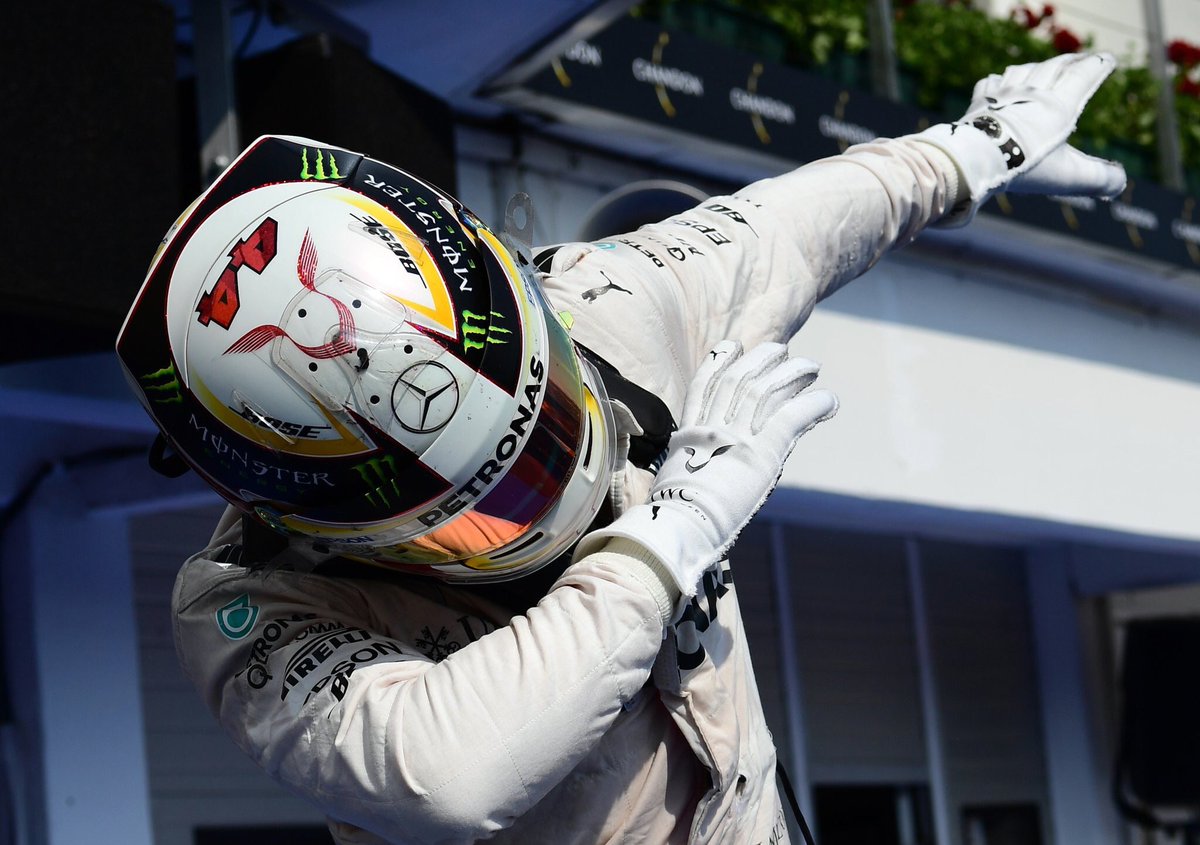 Lewis Hamilton – the dab
Ah, 2016. A year of big political events, sporting triumphs and er…the dab. The pop-culture craze spread worldwide, with seemingly every public figure doing at some point. No surprise, then, that F1's king of celebrations adopted it when he won that year's Hungarian Grand Prix.
The move, a simple gesture involving a drop of the head and a raising of the arms, is used in moments of triumph, which made it apt for Hamilton as he jumped out of his car in victory.
While the dab has since fallen out of fashion somewhat, there have since been other gestures from Hamilton, such as the Usain Bolt pointing salute in 2017, which keep fans entertained.
Ayrton Senna – champagne
The most popular celebration drink of all – champagne – is often used on F1 podiums to spray the crowd in moments of triumph. Ayrton Senna's 1986 victory in Brazil is remembered for a particular champagne moment.
First, the three drivers were handed unopened bottles, which was unusual seeing as they were normally opened for them. They then spent a short while wrestling with the bottle tops to try and pop them open, causing laughter in the crowd.
Next, the build-up in tension in the bottles caused the champagne to spurt out explosively, completely drenching the drivers – Senna, in particular, being the target of the other two. F1 champagne moments since haven't been quite as dramatic, or fun, to watch.
Alan Jones – unusual trumpet playing
Imagine you spend all your life working towards your dream of winning a Grand Prix and you finally achieve it in front of an adoring crowd – which song would you want to hear?
'Happy Birthday' probably isn't high on your list, especially if it's not your birthday in that moment, but this is exactly what happened to Alan Jones when he won the 1977 Austrian Grand Prix. As he collected his trophy, there appeared to be a problem with the sound system, which stopped the organisers from playing his country's national anthem.
Instead, a drunk local had picked up a trumpet and started playing a medley of tunes instead, one of which being the famous birthday tune. Still, it's better than 'Here Comes the Bride'…