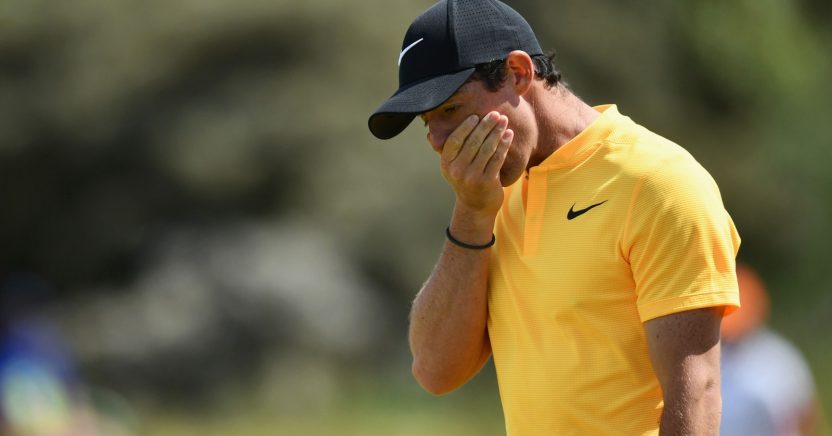 Rory McIlroy played a risky game in the build-up to the upcoming Masters at the Players Championship last weekend. Instead of sticking to the basics as he tries to recover some kind of form that will fire him into contention at the iconic Augusta National tournament, the Northern Irishman tried to emulate the sheer power of US Open champion Bryson DeChambeau.
It's fair to say that that very particular, and somewhat controversial, style of play didn't work for McIlroy as he tried to retain his Players Championship title. His defence lay in tatters at TPC Sawgrass after he carded an embarrassing seven-over par in the first round, and although the second round wasn't officially completed, McIlroy was three over for the day and cut from the tournament at +10 in total.
The 31-year-old, who has now slipped out of the world's top 10, was left ruing his decision to try and copy of the game of DeChambeau.
"I'd be lying if I said it wasn't anything to do with what Bryson did at the US Open," the former World No.1 said. "I think a lot of people saw that and were like, 'if this is the way they're going to set golf courses up in the future, it helps'. It really helps.
"I thought being able to get some more speed is a good thing, and maybe to the detriment of my swing, I got there, but I just need to maybe rein it back in a little bit."
You can't blame McIlroy for trying something new. It's been over six years now since he last got his hands on one of the four major tournaments, and whilst he's still there or there abouts in the 2021 US Masters betting after that dismal display in Florida, it would be a real shock to see him being fitted into a Green Jacket at Augusta next month.
Perhaps he saw the Players Championship as one last opportunity to really try something new before heading to the Masters. The chance to try and take to the course in a fashion similar to DeChambeau and if he won the title, or was at least in contention, then he could take to Augusta in that style.
It seems McIlroy knows now that that aggressive style of play is not going to work for him. What he needs to do between now and the Masters is go away and work on perfecting the basics again. The Northern Irishman has been one on the longest hitters for years now, so he doesn't need to go chasing someone else's game, what he needs to do is find his own.
Whilst the golf betting tipster will tell you to avoid backing McIlroy at all costs, we all know that he has the ability to win majors, but he must dig deep to rediscover that self-confidence and refine his game back to the standards that resulted in him winning four major titles.
The World Golf Championships later this month at the Austin Country Club in Texas is McIlroy's last chance to discover some kind of form before the Masters, and it would be great to see the Northern Irishman find a glimmer of his former self ahead of the Augusta showdown