We have not heard the last of Nico Hülkenberg in Formula 1, a fair assumption to make as the sport's supersub is a safe bet to be called to stand-in at some point this forthcoming season.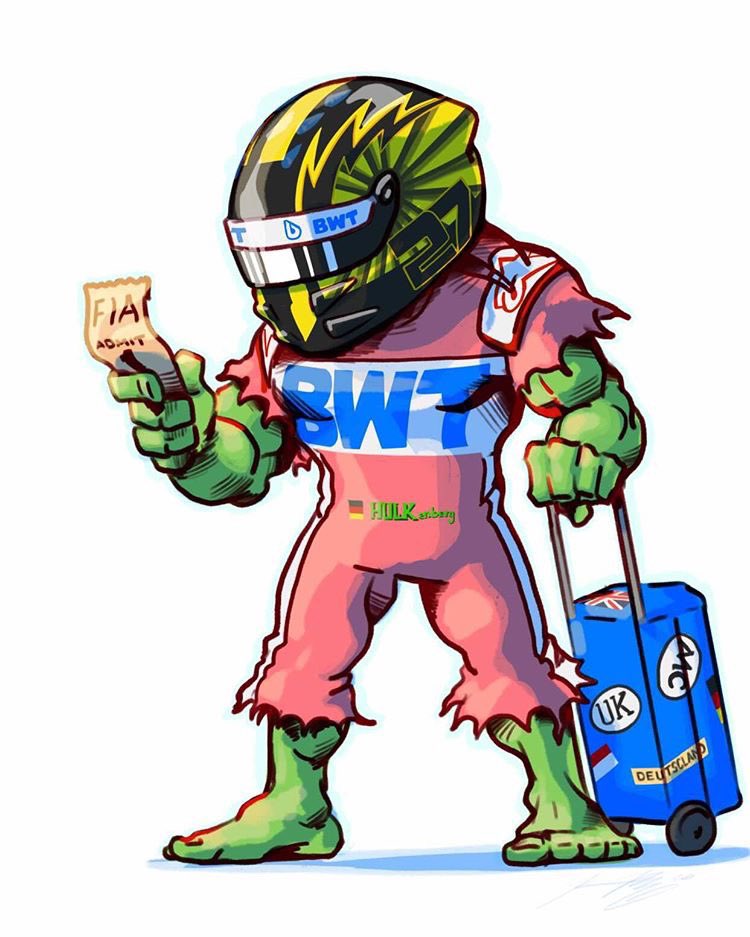 Apart from the obvious perils that loom over any motor race, the COVID-19 landscape adds another unknown. After all, The Hulk was called in to substitute thrice last year as a result of the global pandemic.
For two race weekends he suited up in pink as a substitute for Sergio Perez and another race in place of Lance Stroll, for Racing Point when the virus struck.
Nevertheless, it was not the same as having a drive every race weekend for the 33-year-old, who spent a decade in the top flight, who admitted during an interview with German GQ: "It was quite a change to slow down after many years in Formula 1.
"It almost felt like a new chapter in life. And this break was also chosen a little deliberately. All in all, 2020 was certainly a very challenging year for everyone.
"Personally, I am quite happy with the way I have dealt with the pandemic. The bottom line was that it was a balancing act between maximum acceleration and very short-term acceleration."
It would be fair to say that Hulkenberg did not get a fair crack at F1 with a big team which his early days promised. Williams, Sauber, Force India and the modern era Renault team were hardly powerhouses. That unenviable record of 179 Grand Prix starts without a podium will haunt him.
Another year in midfield oblivion was not going to be countenanced by the German; if a big team did not come knocking he would slip off the grid on his terms.
"True, that didn't come," he confirmed. "There were talks, but it just didn't come together. That's why I said to myself: Don't just keep going at any cost, just leave for a year – even at the risk of not coming back at all.
"I've had a good ten years in Formula 1 and now I'm not the type of person who wants to keep on driving. Especially not in the back just to be there. So I deliberately said no and was at a point where this break was very welcome for me personally."
But he was soon called into action for the British Grand Prix when Perez was taken ill but Hulkenberg did not start the race. A week later the 70th Anniversary Grand Prix he did and impressed as he did when he took over Stroll's cockpit for the Eifel Grand Prix on home soil.
OutSTAND-INg! 💪

Drivers queue up to congratulate @HulkHulkenberg after he qualifies P3 for the 70th Anniversary Grand Prix #F1 pic.twitter.com/5pLxiisTCk

— Formula 1 (@F1) December 21, 2020
He reflected on that hectic period: "At first, a lot of people said that I had to do it – but I also pointed out directly that it was not that risk-free. What do I have to lose? If I can't do it, I'll be burned and my comeback chances for 2021 are worse. But: if you don't dare, you can't win anything.
"There wasn't much time to think about it anyway. So I said: Come on, do it, trust yourself and your talent. In addition, the Racing Point was known to be a good car last year.
"At the end of the day, I'm a thoroughbred racer, that's my passion and my craft. Confidence in one's own abilities was the decisive factor in weighing up."
"It's definitely a shock to the system, I already had some practice time before qualifying and the race. That helped, of course, even if the first few laps were pretty tough. But then I grooved myself back in relatively quickly and developed a feeling for the car.
"You shouldn't think too much and doubt, just do it. Anyway, I'm the type of guy who likes unorthodox challenges and likes to make the impossible possible."
Asked if he had any regrets not being on the F1 grid anymore, he replied: "I have twice had the opportunity in a good car, with a team that I know, to do what I do best and what I love.
"There's not much more to say about that – just do it, don't worry too much. Even if the circumstances are difficult: So what? I knew if I did it well now, I would profit later. What is important is simply belief and trust in yourself."
This begs the question: is great talent enough to crack it in F1?
"You have to differentiate a bit here," explained Hulkenberg. "Between the top and the rest of the field of drivers: In the midfield and the rear, other factors such as politics and financial aspects play a role in decisions. I've seen that myself.
"In 2010, right after my first year, Williams fired me because they had financial problems and Maldonado came with a decent sponsorship. Of course it was bitter and frustrating, but these are factors I have no control over.
"That's higher politics and I have to accept it – I have to. But I looked ahead again relatively quickly, refocused on the future and concentrated on the things that I can control and influence myself.
"Everything else is wasted time and energy. And as far as the coming season is concerned: That's the way it is, just outside the box is also over. I've been in this business too long to let it get me down now."
As for making 2021 a good year, he ventured: "You shouldn't always see the negative, but understand the opportunity in every situation.
"In lockdown, you spend so much time at home and have few leisure opportunities, so of course it's easy to moan a lot. You shouldn't question everything but rather be satisfied with what you have.
"I would like to stay in the Formula 1 orbit and try to find a permanent cockpit for 2022. Who knows what's going to happen this year. I just let it come to me and then I just have to do it again like in 2020," concluded Hulkenberg.
What his options might be dependent on whatever fate awaits teams and drivers, but one imagines he will be on speed-dial with Aston Martin, Williams, Alpine, Haas, Alfa Romeo and probably even Red Bull if Sergio Perez bombs against Max Verstappen.
Be sure Nico travels with his kitbag close at hand and by his side. Ready when you are.
For now, there is nothing on the horizon for him, certainly not wishing any F1 driver harm or ill-will, but who knows what fate has in store for us? In other words, don't bet against supersub returning for his 180th Grand Prix and bagging that elusive podium. Bets anyone?
thinking about this year and for sure the #hulkenback 2.0 was my special sporting moment .. finishing P8 and becoming driver of the day after no practice session and P20 on the Grid 🤠.. still a bit unreal, like all that happened in 2020 🤔 take care & stay positive everyone! pic.twitter.com/VW6KXTdlET

— Nico Hülkenberg (@HulkHulkenberg) December 31, 2020